Furniture photography
Furniture photography is one of the activities that the photography department of VERIYA Advertising Center is doing in a completely specialized and professional way. It is a matter of pride that we have been able to have a VERIYA friendly cooperation with the best and largest furniture factories in Iran. This has enabled us to capture the best images in various genres of furniture photography.
Furniture photography category
Based on experience and work with the best and largest furniture factories in the country, photography in the field of furniture is divided into three general categories:
White background photography
Arrangement photography
Background photography
Each of these styles of photography is described below
White background photography
In this style of photography, the desired product (furniture) is placed in a completely one-handed space (white or black). This type of photo causes the product to be shown to the audience in a one-handed space with all the angles of the product being clear. This type of image allows your audience or customer to see all angles of your product and choose it consciously.
Uses of white wallpapers
Use on site (as product coloring)
Used in graphic design
Use in packaging
Used in billboard designs
Use in catalog design
And…
Arrangement photography
In this type of photography, you have to arrange the frame that is supposed to form your image, and finally select the appropriate light to the desired angle and record the image. This type of photography has disadvantages that we mention below.
Disadvantages of layout photography
Limited accessories
Duplication of space and environment
Duplication of total images
Not having the right to choose the background color to create variety
High cost of stage design
The high cost of providing accessories
And…
Advantages of Layout Photography
Have real photos
Not limited in choosing angles
High speed of work
Less editing than background photography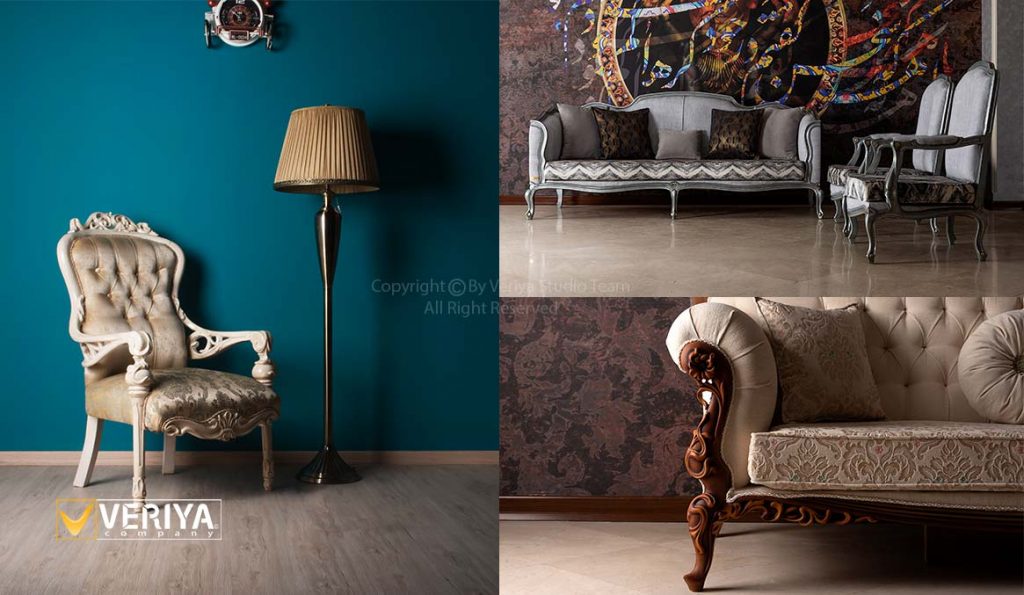 Background photography
In this style of photography, we photograph the product in the studio space and finally assemble the product in a place that is close to reality. This type of photography, known as background photography, can create an image of the place where the product is placed in the viewer's mind so that he can have the right choice of your product.
For example, if we photograph a sofa in a factory or workshop space, the customer can not imagine how beautiful this sofa creates in the home space. But if the same sofa is arranged in the space of a stylish house, it will create a better image in the mind of the audience.
In space photography, because there is no possibility of moving furniture, and also if it is an exhibition space and due to the repetition of space, this type of photography can be used. In this type of late photography, we will not have the limitation of decoration and repetitive space. Our furniture is photographed in the space of your factory or exhibition and finally it is arranged in a stylish house with beautiful decorations.
We are proud that the specialized photography team of the furniture of VERIYA Advertising Center was the first team that was able to do the grounded photography in a completely professional and accurate way in your place, dear ones.
Please refer to the furniture photography portfolio page to see furniture photography portfolios. You can also contact our specialists in VERIYA Photography Department for free consultation and more information.